Establish your brand credibility.
Print collateral is a key part of any successful marketing campaign. Otherwise known as leave-behind marketing materials, these products promote the services and products your business in the Hickory, North Carolina area offers. Some of the print collateral options we design and print at Weathervane Creative include folders, flyers, notebooks, calendars, business cards, booklets, catalogs, postcards, and much, much more.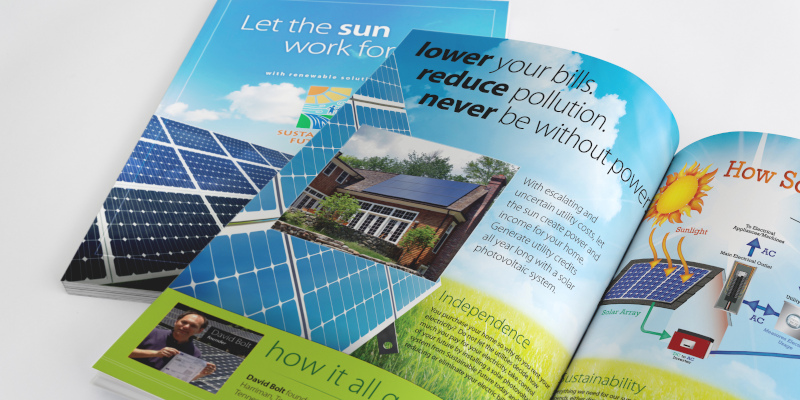 Use these print collateral items during consultations, tradeshows, fundraisers, and sales meetings. These items have a smaller impact on your budget than larger items like pens and branded water bottles while still helping you establish your brand and tell your company's story.
Make print collateral work for your business by leaving the creative aspect to us. Our team of creatives can integrate your brand into all the print items you want to purchase, establishing your brand seamlessly and directly.
On top of designing all your leave-behind marketing materials, we can also do all the printing. We use high-quality printing processes to produce materials with vibrant colors in a variety of formats. We are your all-in-one branding, designing, and printing partner, and we're here to support your business' marketing efforts at every point.
We love what we do, and we can't wait to take your next marketing campaign to a new level with carefully designed and professionally printed print collateral. Set up a consultation with us today and let's talk about your design and print needs.
FAQs About Print Collateral
Our team at Weathervane Creative has extensive experience in the graphic design industry, and you can count on us to help you develop your ideas into the effective solutions your business needs. If you are looking for ways to effectively promote your brand, you can turn to us for help in creating great print collateral to give to potential customers. We have put together the answers to a few of our most frequently asked questions on the subject of print collateral below for you to check out.
What is print collateral?
Print collateral can also be referred to as leave-behind marketing materials, and both terms refer to things like flyers, brochures, catalogs, business cards, postcards, and even calendars. Essentially, if it's a printed item that you give to potential customers to promote your business, it's print collateral. Some types of print collateral, such as pamphlets, are designed to provide more information about your products, services, or company in general. Others, such as business cards, exist simply to remind customers about your company so that they remember to turn to your team whenever they need your products or services.
When should I use print collateral?
Print collateral can be used in a variety of ways. Many companies make great use of these types of materials at tradeshows and conferences—by giving your customer something to take with them, you ensure that they remember your company's booth out of the many others they visited during the event. In addition, print collateral can also be used for direct mail campaigns—you can send your customers information about upcoming sales, product launches, etc. through the mail to generate more business.
---
At Weathervane Creative, we create print collateral for businesses in Hickory, Charlotte, Statesville, Mooresville, Boone, Asheville, Lenoir, Gastonia, Morganton, Lake Norman, Denver, Winston-Salem, Taylorsville, Grandfather Mountain, Banner Elk, Catawba County, and the North Carolina Foothills.